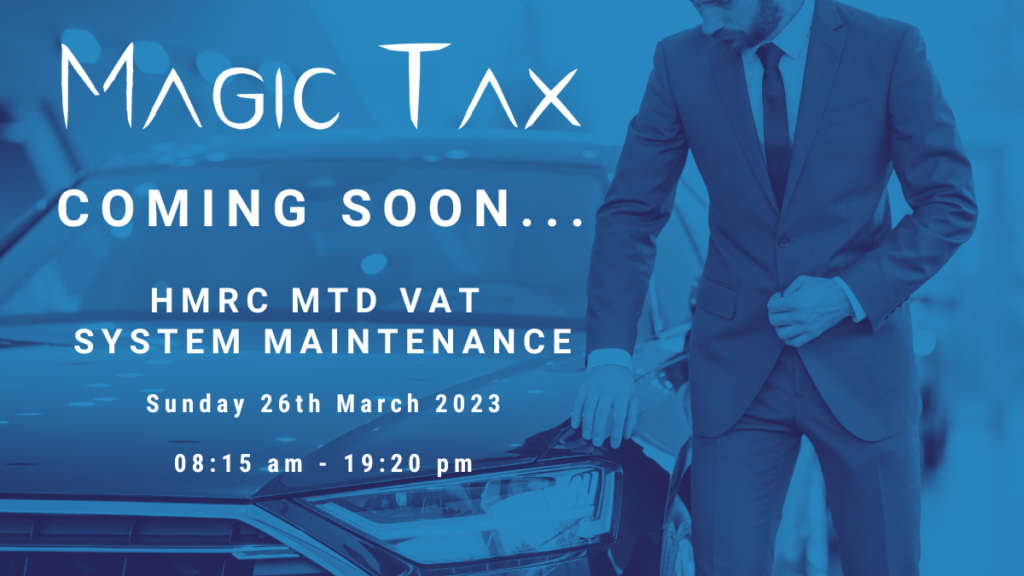 HMRC MTD System Downtime Scheduled for
This Weekend
HMRC will be carrying out scheduled maintenance this Sunday to their MTD for VAT system.
Since Magic Tax is reliant upon HMRC's system being operational, this means that the Magic Tax service will be unavailable during the days and times shown below:
Sunday, 26th March 2023 at 08:15 am
until
Sunday, 26th March 2023 19:20 pm
The reason for this downtime is due to HMRC's scheduled maintenance of their MTD for VAT service.
During this time customers will not be able to access their HMRC online accounts (MTD for VAT) and we would suggest Magic Tax users avoid trying to register or log in to their Magic Tax account during this time.
HMRC apologises for any inconvenience this may cause. This, and other planned maintenance and upgrade activities are shown on the HMRC's service availability and issues pages on GOV.UK by following the link below.
Looking for more information?
The Magic Tax team are ready and willing to help with any issues.
If you need help with the functionality of Magic Tax, please get in touch with our Support team here – giving us lots of detail.
Read more information about HMRC's planned system downtime here.
If HMRC's system is down, the Magic Tax solution will be too, as our solution relies on their system being operational.
Interested in KFA Connect?
Find out more about systems integration, bespoke software development, eCommerce Development & Integration, Business Process Automation, and more…
---